2023-02-05
The MSRC held its awards dinner on February 5, 2023 at the Marlborough Country Club. The program began with a short video remembering some friends of the referee community that had passed away over the last few years since our last ceremony — Chuck Concordia, Marwan Ghabour, Charles, Cross, Angelo Cassenelli, Angelo Bratsis, Tom Heinz, Emmanuel "Mike" Kapalis, and Sherman Whipple. State Youth Referee Administrator (SYRA) Elie Nassif shared the words of Ray Halleran who offered a tribute to our friend Tom Heinz. Mass Adult State Soccer President Andy Weiss offered his own rememberances in honoring Angelo Bratsis who had such a tremendous impact on refereeing in Massachusetts, the United States, and beyond.
State Referee Administrator Richard Frongillo recognized and thanked the tremendous staff of MSRC including Executive Assistant Diana McKee and Administrative Assistant Stephanie Reynoso as well as the "S-People" SYRA Elie Nassif, State Director of Assignment Fred Corey, State Director of Mentoring Kevin Suares, and State Director of Instruction Kara Honthumb. Rich recognized several accomplished referees who were present including former FIFA referees Dilvo DiPlacido, Rachel Woo, and Thomas Supple.
Award Winners
Felipe Cerioni, Young Male Referee of the Year
Janelle Murphy, Young Female Referee of the Year
John Cowles, Adult Referee of the Year
Michael Champagne, Futsal Referee of the Year
Joseph Santos, William R. Murphy Administrator of the Year
Leslie Waguespack, Mentor of the Year
Stephen DiLeo, Richard M. Filippetti Assignor of the Year
Jeffrey Heinze, John H. Weil Instructor of the Year
Nigel Gayle, Selfless Service Award
Congratulations to all of the winners! Thank you to MSRC Futsal Administrator Soorena Farboodmanesh for making the extra effort to attend and present the award for futsal.
2022-06-28
Massachusetts sent a terrific group of referees and mentors to the East Region Finals. From the group, the East Region has selected the following Massachusetts referees to attend the NCS Nationals in Florida:
Adam Cook
Shaye Lane
Joe Connolly
Stephanie MacFarland (Returning Referee)
Sam Conroy
Elizabeth "Libby" McDonald
Tomás Leyton-Nolan
We are proud of how the entire delegation performed in West Virginia and wish these seven officials well!
2021-12-15
SRA Richard Frongillo announces that long-time State Youth Referee Administrator (SYRA) Russ Wolf has stepped down. Russ has served the referee community well and his daily involvement will be missed. Elie Nassif of Attleboro has been appointed as the new State Youth Referee Administrator (SYRA). Elie slides over from the role of State Director of Assessment (SDA) that he has held this past year. The SYRA is a joint appointment between Mass Youth Soccer Association and the SRA. See the announcement from Mass Youth Soccer President below:
State Youth Referee Administrator (SYRA) Appointment
Dear Youth Soccer Leaders,

Russ Wolf has served as our State Youth Referee Administrator (SYRA) for the past five years. Recently, Russ has approached both the State Referee Administrator (SRA) Rich Frongillo and myself to advise that due to a number of professional and personal promotions and opportunities, he has found it increasingly challenging to support the Massachusetts State Referee Committee (MSRC) and Mass Youth Soccer objectives. Believing that the SYRA position requires someone who can devote full attention to the referee community, Russ has decided to step down from the position as soon as possible. I want to thank Russ for his years of dedicated service as SYRA. During his tenure, communications and collaboration between MSRC, Mass Youth Soccer and affiliated leagues has improved significantly. Additionally, Russ has an outstanding record of identifying and promoting promising young referees to more challenging assignments and recognition at the state, regional and national level.

After consulting with the SRA and other members of the soccer community, speaking with several candidates, I've selected Elie Nassif as Russ's successor. In my discussions with Elie, I expressed Mass Youth Soccer's view that a focus on recruitment, development and retention of young referees to help alleviate the shortages of referees at all levels of youth soccer is needed from MSRC and the SYRA. Elie's views align with that objective and he has stated he is both excited and energized to take on the challenge.

Elie started his career as a USSF certified referee in 2004, attaining Grade 6 status in 2005. He became an Assessor in 2008 and an Instructor in 2010. Elie has served as an Assessor for the East Region Championships Tournament in 2010, 2011, 2012, 2013, 2015 and 2021. He was selected to become a State Assessor and State Instructor in 2016. Appointed as MSRC Director of Mentoring in 2017, Elie was instrumental, in collaboration with a Mass Youth Soccer strategic initiative, in formalizing the Genesis Referee Program, providing a platform for much needed instruction and mentoring to recreational in-town referees on a pathway to USSF referee certification. Elie has served most recently as State Director of Assessment, coordinating staff to help in the development of advancing referees. Elie has led numerous on-field instructional and mentoring sessions for novice as well as advanced referees. His vision and passion are in concert with MSRC and Mass Youth Soccer objectives to help Massachusetts youth referees reach their highest potential and improve the quality of officiating on the field.

Elie was born in Lebanon and emigrated to the United States at the age of 13. He played amateur soccer until age 40. He has been married for 30 years and has three adult sons.

Please join me in welcoming Elie to the SYRA position and offering best wishes for success as he takes on this new assignment. The appointment is effective December 15, 2021.

Bob Trudeau
President
Massachusetts Youth Soccer Association
2021-11-25
SDI Kara Honthumb and SRA Richard Frongillo announce the framework for Recertification 2022. Course offerings have been posted, and each referee's profile has been enhanced to allow for tracking of requirements.
2021-06-16
SRA Richard Frongillo announces the appointment of Kevin Suares of Dartmouth as the new State Director of Mentoring. Kevin has spent many years supporting and developing referees in many capacities and in multiple states. We are fortunate to have Kevin in Massachusetts with his boundless enthusiasm and great ideas, and we look forward to seeing what Kevin can accomplish in this very important role. You can read more about Kevin on our staff page.
2021-05-01
The referee world has been shaken today with the loss off Angelo Bratsis who passed away after battling COVID for an extended time. We grieve with Angelo's family and send them our deepest condolences. Angelo Bratsis Obituary.
2021-03-29
Live Chat will be available on a trial basis as we continue to try to improve the ways that we can assist referees through their certification and recertification program. Look for the chat icon on the bottom-right of the website; when it is there, we are open for Live Chat business! Click on the icon to get started! We are a small staff, so if your question will require some significant investigation, we will follow up through email.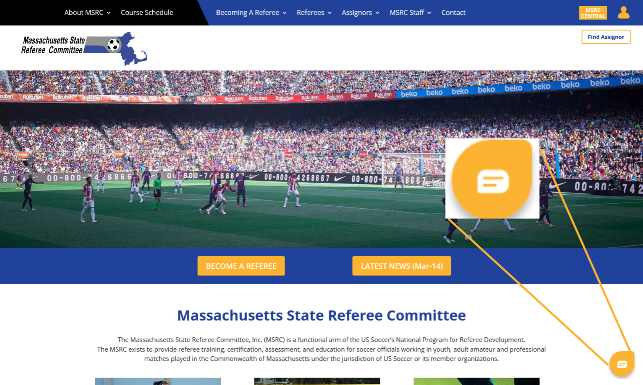 2021-03-14
Video (1:51) introducing new information in everyone's MSRC profile indicating status of one's Supplemental Courses from US Soccer Learning Center.
2021-03-10
Video (3:32) giving a tutorial on how to access the new, required Supplemental Courses within the US Soccer Learning Center.
2021-03-08
Today we launch our renovated website! We hope you enjoy the updated look! Some particular notes of interest about the new site:
MSRC Central is the database side of the MSRC website that includes all things related to our dynamic data — referee profiles, course schedules and management, assignor access, etc.
To log in to your MSRC account, click on the icon in the top-right of this page!
The new Referee Grades page explains the evolution and status of referee grades which have undergone major changes.
With more focus on safety and online education, the process of certification and recertification of referees has been dramatically modified. The new Steps to Become a Referee and updated Recertification FAQ list the requirements which now include Supplemental Courses from US Soccer.
The MSRC 2021 Meeting Schedule has been posted. Look for the "Town Hall" meetings being held quarterly.
We know of more information we want to include on the website as we move forward. If you have suggestions, please contact us.
2021-03-01
SRA Richard Frongillo announces the appointment of Elie Nassif of Attleboro as the new State Director of Assessment (SDA). Elie has held several roles in support of referee development. Since 2017 he has served as MSRC Director of Mentoring and was a creator of the Massachusetts Genesis Referee Program (GRP). We are pleased to have Elie's forces of honesty, integrity, and dedication in our midst.
SRA Richard Frongillo announces the appointment of Fred Corey of Methuen as the new State Director of Assignment a.k.a. State Assignor Coordinator (SAC). Fred has served the game in several roles including working on the MSRC as an Area Referee Administrator (ARA) since 2008. Knowing of his strong communication and organizational skills we look forward to all that Fred will accomplish in his new role.
2021-01-27
At the first MSRC meeting of 2021 SRA Richard Frongillo announces the appointment of Kara Honthumb of Dartmouth as the new State Director of Instruction (SDI). Kara has been a National Referee coach with US Soccer since 2019. In 2020, she was selected by US Soccer to attend the FIFA Member Association Instructors Course and was also chosen to instruct at the Member Association seminars in 2020 for select US Soccer National Referees and Referee Coaches. The MSRC and the referees of our state are fortunate to have Kara sharing her passion for referee development.
2020-12-15
Mass Youth Soccer President Bob Trudeau announces the reappointment of Russ Wolf of Watertown as State Youth Referee Administrator (SYRA). Russ was lauded for his outstanding service to the MSRC, overall support to the youth referee community, and his extensive efforts to identify high potential officials for development and advancement as well as the positive relationships he has established with affiliated youth leagues. The appointment is a two-year term to December, 2022.
2020-11-28
Mass Youth Soccer President Bob Trudeau and Mass Adult Soccer President Andy Weiss announce the appointment of a new State Referee Administrator (SRA) in a note to the Massachusetts soccer community:
Many of you may have heard that Peter Kokolski is stepping down as our SRA. Peter has done a great job leading the organization, and we speak for everyone in expressing our appreciation and gratitude for the work he has done.
In an effort to fill those shoes, we have appointed Rich Frongillo to be the new SRA for Massachusetts, effective December 1. Many of you may know Rich from a variety of activities. He has been very visible as both an Instructor and Development Advisor, in addition to his being around the game for over 30 years as a referee, assessor and assignor. Rich brings a wealth of administrative experience to the job as well, having actually served as our SRA some 20 years ago. We are happy to have him back.