Richard J Frongillo
State Referee Administrator (SRA)
Rich began his referee career as a young teenager at a time when certification was not required to officiate games in his home town of Franklin. He got involved as an administrator with the MSRC when paperwork was really paper. Fortunate to have been guided by many talented people, Rich rose in the ranks as a referee and worked with excellent referees along the way. Rich is grateful for the many relationships that have grown over decades. He served as State Youth Referee Administrator (SYRA) at the turn of the century and then as SRA in the early 2000s. Never far from the MSRC and referee development, Rich returns as SRA in December, 2020.
Soccer connects all. Beyond the referee community, Rich has been active as a player, a coach, an administrator, and fan of soccer for decades. View more of Rich's soccer resume.
Rich and his spouse Sandy are parents of four and guardian of another (all have been referees) living in Franklin. Rich is a business owner (Tinetrix, Franklin Soccer School, Downtown Sports), enjoys the outdoors, has driven all over the United States, has a great dog Stella, proudly clears snow off his solar panels, and shares copies of The Energy Bus with anyone.
Elie Nassif
State Youth Referee Administrator (SYRA)
Elie was certified as a USSF referee in 2004. He attained Grade 6 in 2005 and became an Assessor in 2008 and Instructor in 2010. He was selected to attend Regional Championships as an assessor in 2010, 2011, 2012, 2013 and 2015. He was selected to become a State Assessor and State Instructor 2016.
Appointed as MSRC Director of Mentoring 2017, he created the Massachusetts Genesis Referee Program (GRP)
Elie led numerous on-field instructional and mentoring sessions for novice as well as advanced referees.
Elie served as the MSRC State Director of Assessment (SDA) in 2021.
His vision is, in concert with MSRC leadership, to help Massachusetts referees reach their highest potential and improve the quality of refereeing on the field. He is also planning on leading the transition of the instructor/assessor corps into the USSF model of Referee Mentors and Referee Coaches.
Elie was born in Lebanon and emigrated to the US at age 13. He played amateur soccer until age 40.
Elie has been married for 30 years and has 3 boys (men). He values honesty, integrity and dedication.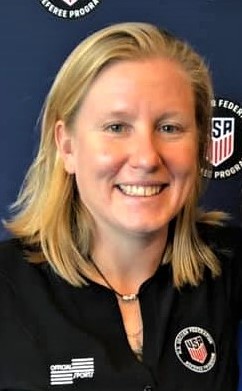 Kara Honthumb
State Director of Instruction (SDI)
Kara has been a National Referee coach with US Soccer since 2019. In 2020, she was selected by US Soccer to attend the FIFA Member Association Instructors Course and was also chosen to instruct at the Member Association seminars in 2020 for select US Soccer National Referees and Referee Coaches.
Kara began her role in referee development by working as a mentor for the US Officials Memorial Day Weekend Referee Academy in 2010. In 2013 she was appointed as a coordinator of the Women's Academy; she was promoted to Co-Director of the Combined Advanced Academy in 2015, alongside her husband Kevin Suares. Since then, the US Officials Referee Academy has grown into a large-scale mentoring event with referees attending from all over the United States & Canada.
Kara was born in New England but grew up in the midwest before returning "home" to study and play soccer at Boston University. During her senior year in college, a friend recommended she try refereeing intramural soccer as a student job – becoming US Soccer certified later that year. She refereed many national championship events and elite tournaments all over the country, eventually attaining her National Referee Badge from US Soccer. She was selected to the National Women's Soccer League Referee List in 2013.
Kara currently lives in Dartmouth, MA with her husband, step-son Alan and their pets Buster, Boo and Casper.
Fred Corey
State Director of Assignment
Fred has served on the MSRC as an Area Referee Administrator (ARA) since 2008 and has a diverse background in soccer. Fred has been officiating for over 20 years as well as assessing and instructing for over 10 years. His officiating career has been at the United States Soccer Federation (USSF) / International Football Association (IFAB), New England Intercollegiate Soccer Officials Association (NEISOA) (Div 1, 2 and 3), and National Federation High School.
Fred has been a USSF Assignor since 2015 and he prides himself in assigning the right referee to the right game and the development of new referees. He knows who the veteran referees are that will confidently work with the new referees. This is a critical component in developing new referees. Fred works hard to ensure games are covered and assigned with the appropriate referees.
Fred received the Administrator of the Year award in 2009, Mentor of the Year award in 2015 and Assignor of the Year award in 2017. In 2008, he received an Official Citation from the Commonwealth of Massachusetts House of Representatives for excellence in Methuen Youth Soccer Program as President, Referee Director, and Treasurer serving over 12 years. In addition, he currently serves on the Eastern Massachusetts Soccer Officials Association (EMSOA) as the High School Rules Interpreter and Clinician. Fred has also been a long time member of the International Association of Approved Basketball Officials (IAABO) Board 130 and Women's D3 Collegiate Basketball.
As the state leader of assignors Fred is working to establish a vibrant network of assignors who can work harmoniously serving referees at every level. His initial goal is to communicate with the network of assignors and work closely with the director of our Mentoring Program. The need to establish best practices on recruitment, retention and development of referees is more important now than it ever has been. Fred believes we must always ensure to the best of our ability that the games are covered and, most importantly, with the right referee. We should not assign a game to a referee, we should assign the referee to the appropriate game.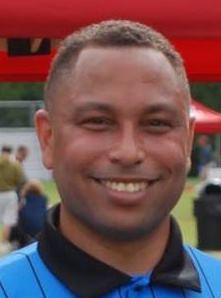 Kevin Suares
State Director of Mentoring
Kevin's first games as a referee began when he was still playing and a friend needed recreational referees in Upper Makefield Township, PA. He was living in New Jersey at the time and became US Soccer certified in May 1997.
In April 1998 Kevin was pointed out to a New Jersey state assignor by an ODP coach who saw him at a inter – state scrimmage. Later that year he was assigned as a linesman (the term at the time) for PDL and WPSL games.
In May 1999 Kevin was selected to represent New Jersey at the ODP Regional Championships at Rider University and the Region 1 Championships. When Kevin moved to Connecticut in 2000 he began to be assigned to the 'A' League (second division Pro – equivalent to today's USL Championship) as well as numerous tournaments and high level adult games. Kevin became a State Referee in 2005. In 2008 he became an assessor and attained his instructor certification in 2013.
In 2001 Kevin became the coordinator for the Connecticut State Referee Program's two Referee Camps held in Kingston, Rhode Island. Grade 8 Referees (now grassroots) from all over the USA could register for five days of intense knowledge transfer and three games a day with a mentor on each field. The Basic camp catered for new Grade 8s and the "intermediate" camp was for referees looking to upgrade to Grade 7. Many Massachusetts referees attended; two of the constants were the Bay State's own Ed Rae Sr. and Ed Rae Jr. who provided much of the instruction. The camp ran for 16 years under his guidance, educating thousands of referees from over 14 states.
In 2013 Kevin was appointed SYRA of Connecticut and led a 50-50 delegation of male / female referees to ODP Regionals and Region 1 Championships – the only state that year to do so. He moved to Massachusetts in 2015 and has continued to work in the development of referees.
Kevin is a US Air Force Veteran who enjoys cycling, playing the steel pan (steel drum), cooking and photography. Some of the pictures on the MSRC website were taken by him.